Peacock Wedding Invitations
A true favourite and one that never loses its beauty are Peacock feathers. When made into invitations, whether designed from photography or illustrations ~ peacock feather invitations can look so beautiful for all events, casual and formal! The amazing feather colours usually range from bright greens to indigo blue with brilliant golds as well. Featured below are Peacock wedding invitations and also peacock feather invitation designs that can be easily personalized for any event, including birthdays, anniversary, engagements + more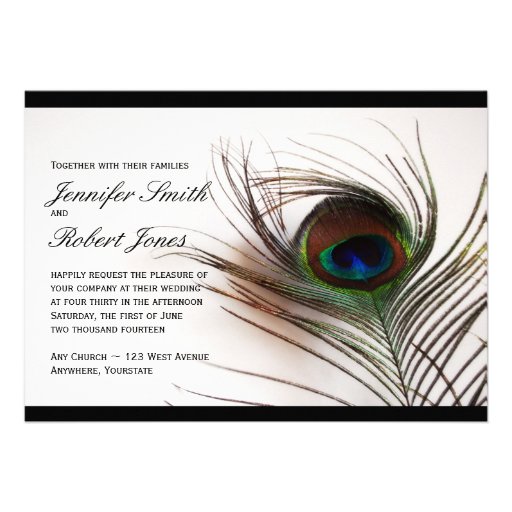 Peacock Feather Glamor Wedding Invitation
by
NoteableExpressions
Browse more Peacock wedding Invitations at
Zazzle
Did you know about : Peacock feathers
The Peacock is an animal sacred to Hera, Goddess of the Home and Fidelity and the feather is seen by some of her worshippers to be a sign of her watchfulness over her followers. For the Chinese, the entire peacock signfies beauty and dignity. In Hinduism… 'when the god Indra transforms himself into an animal, he becomes a peacock. ~ yahoo answers
new and popular peacock wedding invitations & stationery
Create customizable party invitations for every and any occasion! Personalize both sides of this flat card for free. All the text, font style and colour are full customizable.
Choose from six paper types and nine colors
High quality, full-color, full-bleed printing on both sides
Each invitation comes with a white envelope
Save with bulk orders!
25 – 49 invites » 10% off
50 – 99 invites » 25% off
100 – 249 invites » 40% off
250 – 499 invites » 50% off
500+ invites » 60% off